Come Find A Home With Us
St. Columba Church is a welcoming community of faith seekers and those interested in finding out more about the Christian faith.  St. Columba is a joy-filled community made up of diverse believers in various places upon their Christian journey.  We welcome you and your gifts and hope you will explore this website and discover that we are a church focused on fostering an environment of love, peace, and acceptance and especially the Good News. 
Fr. Will Alakas
Fr. Will is not only the Parish Priest of St. Columba in liturgical and spiritual matters but also fully involved in all aspects of church life in the parish working side-by-side with parishioners for the benefit and well being of the entire church community.  St. Columba is a joy-filled community and we welcome spiritual seekers and anyone who wishes to explore their faith! Our church is contemporary in style with no stairs and all facilities on ground level. Click on the Video below to view Fr. Will's welcome to St. Columba.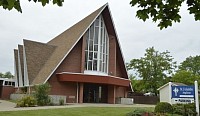 St. Columba Church St Catharines
Our History
St. Columba Anglican Church is a friendly, joy-filled, faith-filled and caring parish welcoming all since it's beginnings in 1953!
In 1953 Stan Costen generously donated the land for a new church in the Anglican Diocese of Niagara. The first church building, now the Parish Hall, was completed in 1954 and in 1960 the present church and hallway were constructed.The altar in St. Columba Church is 20 feet in length behind which is a remarkable reredos of Christ the King with His mother Mary and John the Baptist. Below them Saint Columba prays on the Isle of Iona in front of the Abbey he established. 
Click on the YouTube Video below for a little fun and welcome to our Church.