Come Worship With Us!
We look forward to greeting you in person soon!  For online celebrations of the Eucharist and much more check out our Facebook Page on the link below:
www.facebook.com/stcolumbastcatharines
Our Facebook page will link you in with a variety of online postings that explore our community and our parish activities.  The site is utilized and updated almost daily with new and exciting postings.  Please feel free to explore!  
Unfortunately, In Person worship which normally takes place on Sundays and Wednesdays is cancelled at this time due to the Provincial and Diocesan Lockdown protocols until further notice.  Parish Events and Centering Prayer remain cancelled as well until it is safe to gather in person again.  But don't give up we will again gather safely when we are permitted to do so in person, and we will be thrilled to meet and greet you.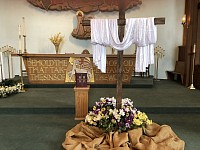 St Columba Church St Catharines
Our Church Services are currently online on Facebook.
For our most recent Sunday Celebration