Come Worship With Us!
"We are sorry to inform everyone that by order of the Bishop we are no longer having in person worship including Christmas until further notice. 
We encourage you to remain steadfast in the faith and to participate in our online Christmas and Sunday Celebrations of the Eucharist on our Facebook site. "
For online Celebrations of the Eucharist and much more check out our Facebook page on the link below:

www.facebook.com/stcolumbastcatharines
Our Facebook page will link you with a variety of online postings that explore our community and our parish activities. The site is utilized and explored almost daily with new and exciting postings. Please feel free to explore!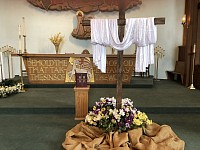 St Columba Church St Catharines