Our Community & Outreach programs
We have many community projects and outreach programs.  Please contact us if you would like to get involved or if you have any ideas that might help us expand our outreach!  We would love to hear from you!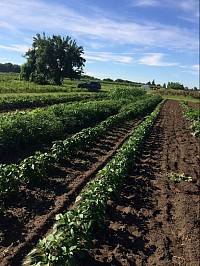 Angelic Acre
An 'acre' of farmland generously provided to the Church from a parish family for the purpose of growing vegetables for those most in need within our community.  This vibrant outreach allows every volunteer to experience the joy of 'tending the garden' literally as well as spiritually.  

We are always excited about those who would like to assist with this endeavour and owe a great debt of gratitude to both Tammy and Mark for the use of the farm and to Stokes Seeds as well as Jeffery's Greenhouse for their tomato plant donations! 
The Angelic Acre was started in 2017 with a small but dedicated group of willing volunteers and has grown into our largest outreach endeavour.  
This is truly a holy endeavour and please browse the many photos on this site to see the wonderful garden that assists so many in our community.  You can be a part of this great outreach if you feel called by simply inquiring with the office at St. Columba Church!
See a newspaper article at the bottom of this page.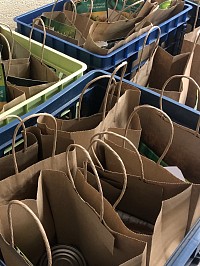 Family Meal Kits
A joint outreach for St. Columba Church with other Greater St. Catharines Area Anglican Churches – Anglicans in Action.  This represents the wholistic approach to ministry in a new and exciting manner.  A number of local churches uniting to tackle food insecurity!  

St. Columba at present provides 24 Family Meal Kits each week from specific recipes with each Kit able to feed a family of four.  Please browse the photos to see what each Kit looks like and if you wish to contribute your generous help would most certainly be welcome!
Thus far through participating in this endeavour over 3,700 Meal Kits have be delivered to those most in need in 2021.

When it is safe and permitted by the Diocese food donations can be dropped off at St. Columba Church.  Financial donations are always welcome.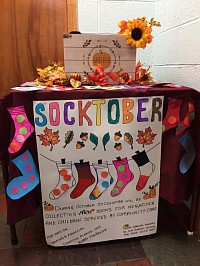 More Outreach
During the Past 4 Years St. Columba has lived out the Gospel Mission of Outreach and care for those most in need within our community.  Some of our outreach has been:

E.I McCulley Public School Breakfast Program $100.00/month
Primate's World Relief and Development Fund (PWRDF) 
Community Care Food Barrel
$10.00 Grocery Gift Cards for emergency situations.
Free Hall Usage for select charitable community groups.
Mitten Tree for donations of hats, gloves, socks, pajamas.
'Soctober' in which socks are collected and donated to various community charities. 
Dignity Kits provided to Start Me Up Niagara (25 monthly essential hygiene products in small personal care bags)
Donations of prepared meals to Westview Centre for Women
 Raised over $900.00 in 2020 for Coldest Night of the Year with Anglicans in Action.
Prayer Shawl and Lap Blanket Ministry for those shut-in or in need of God's warm presence in the form of a blanket or shawl.
X-Mas Hugs Bags – symbolic hugs filled with fun gifts that went to those most in need and 21 delivered to Hotel Dieu Shaver Hospital.
During the Covid-19 Pandemic countless face mask were made and distributed.
Donations to: 
YWCA
FACS
Westview
RAFT
Rose Craig Foundation
Out of the Cold
Wellspring Niagara
JUST TO NAME A FEW!
COMMUNITY IS ESSENTIAL TO ST. COLUMBA

We host many fun-filled community activities!  These activities are wholistic involving anyone who wishes to participate.
Some wonderful examples are:
Christmas Bazaar
Easter Bazaar
Pancake Suppers
Flea Market and Rummage Sales
Meat Pie Making
Bus Trips to the Shaw Festival
Card Parties
Social Nights
Concerts
Trivia Nights
BBQ Parties
Peach Parties